Please visit the organizers' websites for details.
Bernie Taupin with Cameron Crowe
September 19 @ 8:00 pm

-

9:00 pm
Bernie Taupin with Cameron Crowe discussing his memoir, "Scattershot: Life, Music, Elton, and Me."
Join us for an in-person* Live Talks Los Angeles event:
Tuesday, September 19, 2023, 8pm
*Virtual event airs on September 24 at 3pm PT/6pm ET
Bernie Taupin with Cameron Crowe
discussing his memoir, "Scattershot: Life, Music, Elton, and Me"
TICKETS:
$50 General Admission ticket + one signed book
$70 Two General Admission tickets + one signed book
Additional books available for purchase at event
Face masks recommended
Tickets also include opportunity to watch the virtual event
The virtual version of this event airs on September 19, at 3pm PT/6PM ET and is available on video-on-demand for five days
Tickets for the virtual event can be purchased here (includes the book)
ASL interpreter provided upon request.
Parking garage at the venue
An evocative, clear-eyed, and revealing memoir by Bernie Taupin, the lyrical master and long-time collaborator of Elton John
Bernie Taupin has worked in partnership with legendary singer, composer and pianist Elton John since 1967—one of the most successful and long-running musical collaborations in music history. Taupin wrote the lyrics for most of John's famous hits, including "Rocket Man," "Candle in the Wind," "Crocodile Rock," "Your Song," "I'm Still Standing." John and Taupin received the Johnny Mercer Award from the Songwriters Hall of Fame, a lifetime achievement Grammy, an Academy Award, and many more. In 2022, Taupin was made a Commander of the Order of the British Empire (CBE) for services to music. 
In Scattershot: Life, Music, Elton, and Me, Taupin grants access to history-making events from his singular perspective. As a child growing up in the East Midlands of England, Taupin's imagination was sparked by the American mytho-poetics of country music and cowboy culture. Before long, he found himself in the center of the glittering, star-studded fishbowl of '70s and '80s Beverly Hills. Readers visit Los Angeles with Bernie and Elton on the cusp of global fame; spend time in Australia at an infamous rock 'n' roll hotel in an endless blizzard of drugs and spend late-night hours with John Lennon, Bob Marley, and Frank Sinatra. And beyond the world of popular music, he shares memorable encounters with writers like Graham Greene, painters like Andy Warhol and Salvador Dali, and scores of notable misfits, miscreants, eccentrics, and geniuses, known and unknown. And of course, even if they're not famous in their own right, they are stars on the page, and we discover how they inspired the indelible lyrics to songs such as "Tiny Dancer," "Candle in the Wind," "Bennie and The Jets," and so many more. 
"In Bernie Taupin's miraculous memoir Scattershot you'll meet legends, cowboys, geniuses, unforgettable faces in the night, shady purveyors of outrageous fortune, warriors of the heart, and most of all, Taupin himself. Hilarious and so emotionally true, Scattershot is like a letter from a cherished friend. You'll want to keep it close, so you can read it again and again." —Cameron Crowe 
Cameron Crowe is a journalist, author, writer, producer, director, actor, lyricist, and playwright. He has received numerous accolades including an Academy Award, BAFTA Award, and Grammy Award as well as a nomination for a Tony Award. Crowe famously began his career as a teenaged journalist covering rock bands on tour for Rolling Stone magazine in 1973.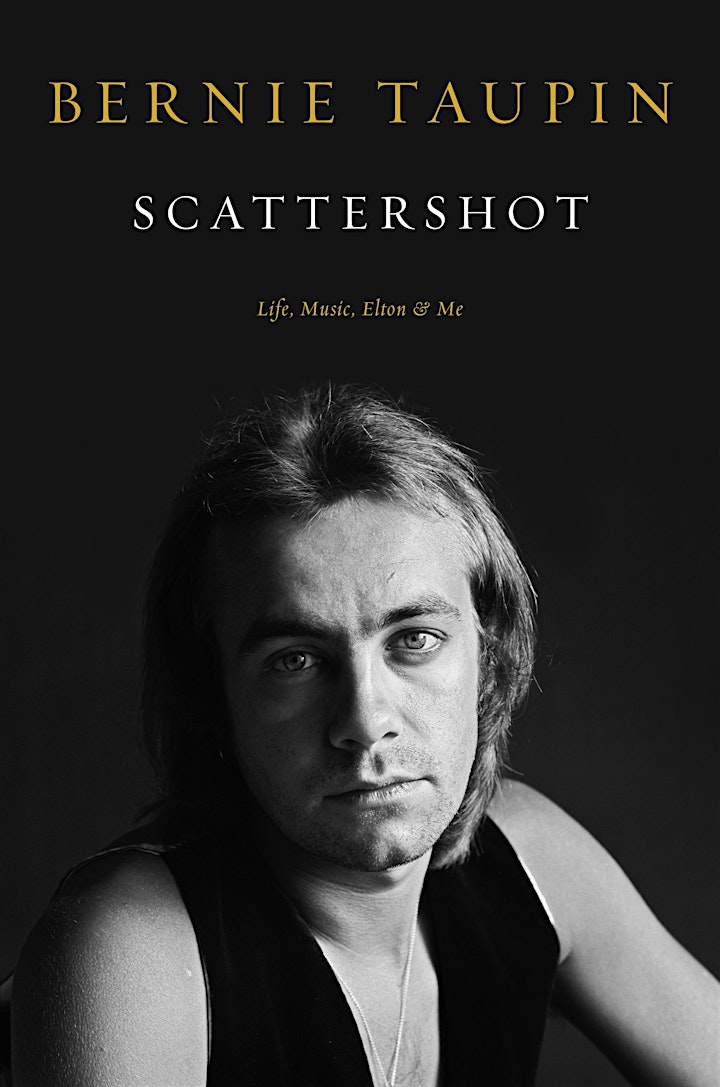 Related Events