Please visit the organizers' websites for details.
An Afternoon with Rainn Wilson
May 7 @ 3:00 pm

-

4:00 pm
An Afternoon with Rainn Wilson discussing his book, "Soul Boom: Why We Need a Spiritual Revolution"
Join us for an in-person* Live Talks Los Angeles event:
Sunday, May 7, 2022, 3pm
*Virtual event airs on May `5 at 6pm PT/9pm ET
An Afternoon with Rainn Wilson
on his book, "Soul Boom: Why We Need a Spiritual Revolution"
TICKETS:
$46 General Admission ticket + one signed copy of the book
$66 Two General Admission tickets + one signed book
Additional books available for purchase at event
Face masks recommended
Tickets also include opportunity to watch the virtual event
The virtual version of this event airs on May 15, at 6pm PT/9PM ET and is available on video-on-demand for five days
Tickets for the virtual event can be purchased here (includes the book)
ASL interpreter provided upon request.
Free parking at the venue
Presented in association with New Roads School.
Actor, producer, writer, and New York Times bestselling author Rainn Wilson, cofounder of the media company SoulPancake, explores the benefits of spirituality as a means to creating solutions for an increasingly challenging world.
You may know Rainn Wilson as Dwight Schurte on TV's "The Office." But he's also a writer, thinker and media executive. In his new book, Soul Boom: Why We Need a Spiritual Revolution, he talks about the need for profound healing that can only be provided by faith and the sacred. Sparked by his personal struggles with loss, addiction and mental health, Wilson delves into ancient wisdom for answers to life's deepest questions.
Rainn Wilson is a three-time Emmy nominated actor best known for his role as Dwight Schrute on NBC's The Office. Besides his many other comedic and dramatic roles on stage and screen, he is the co-founder of the media company SoulPancake and host of the docuseries Rainn Wilson and the Geography of Bliss, coming early summer on Peacock. Rainn is the author of The Bassoon King: My Life in Art, Faith, and Idiocy, as well as the coauthor of SoulPancake: Chew on Life's Big Questions, a New York Times bestseller. He lives in Oregon and California with a lot of animals, his wife and son.
"… the insightful exploration of spirituality that we desperately need right now. As we all seek answers amidst an unceasing news cycle of chaos and doom, Rainn Wilson's SOUL BOOM funnily but gently and lovingly opens a door to a deeper way to process all that is happening around us.."—TV host Lisa Ling .
"Serving up a delicious smorgasbord of existential philosophy, self-reflection, social science, and Star Trek, Rainn Wilson explores the missing role of spirituality in the modern world. It will light up your brain, warm your heart, and tickle your funny bone."—Adam Grant, New York Times. bestselling author of Think Again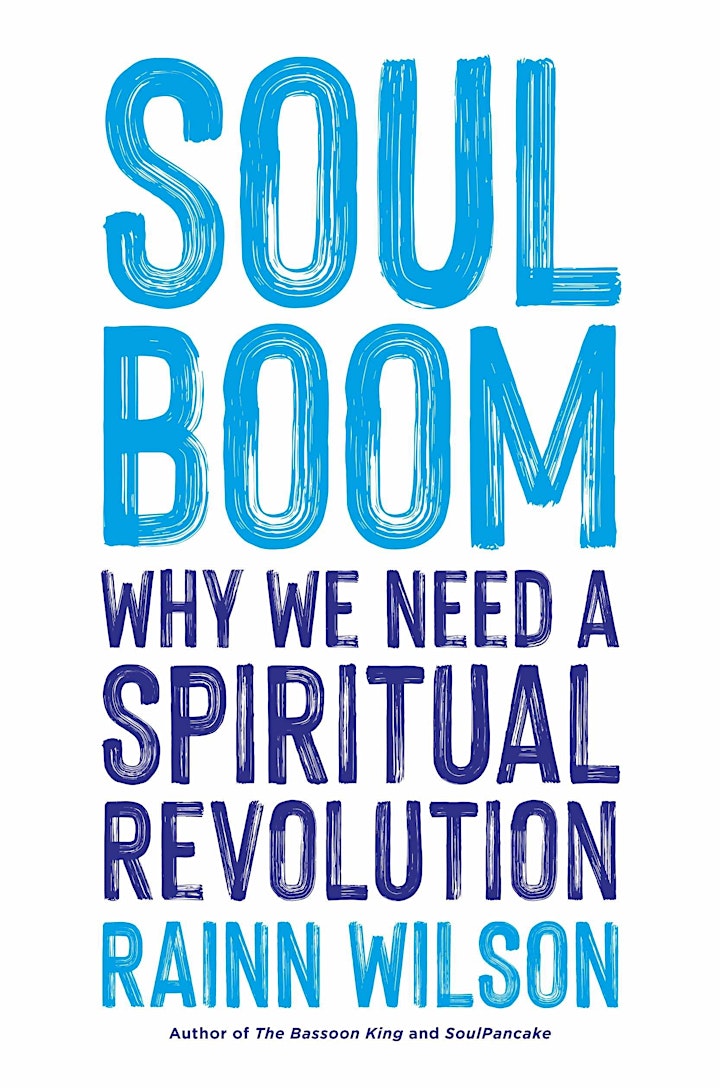 Related Events