Please visit the organizers' websites for details.
Acid-Free Los Angeles Art Book Market
June 16 @ 6:00 pm

-

June 18 @ 6:00 pm
aka "ACID-THREE"
Join us June 16–18 for the 2023 Acid-Free Los Angeles Art Book Market. A–F ⅠII provides a platform for 90+ West Coast and international exhibitors presenting new publications and projects alongside film programming by Whammy! and Philosophical Research Society, an archival exhibition from Dublab, and a full schedule of ongoing discursive programming, music, and signings.
Receive a Free Gift with your Eventbrite RSVP!
Fair Hours
June 17, 11AM – 7PM
June 18, 11AM – 7PM
Opening Party
June 16, 6 – 9PM
Music by Crush
Bar by Madre Mezcal and Waves Wine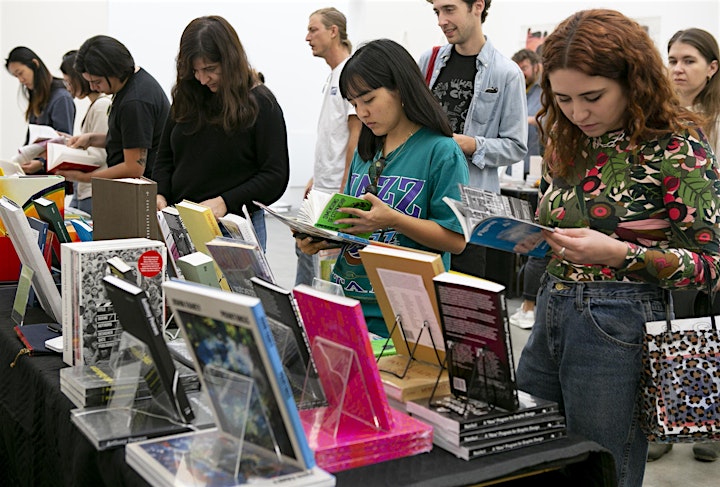 Exhibitor & Programming Information
Browse our website (acid-free.info) for a full lineup of music and discursive programing, film screenings, food vendors, and special events and exhibitions!
About Acid-Free
Founded by a programming collective of Los Angeles-based independent publishers in 2018, ACID-FREE aims to create new spaces for critical discussion and commerce in support of the diversity of independent publishing practices in the arts. The group's guiding principles favor a non-hierarchical, ad-hoc working method, a financial structure that is not profit-driven, and a spirit of inclusion and collaboration whenever possible.
Donate and Help Support Acid-Free
Help us keep Acid-Free free and support the artists sharing their work by making a donation! No sum is too small!
Donate $50 for a ticket to attend the private opening night happy hour with the exhibitors, June 16, 5-6pm. One drink ticket included.
Donate $200 for an A-F III tote bag filled with a selection of new books from this year's fair!
Related Events